What shoes and accessories to choose for a pink dress?
2022-07-18
Pink is a colour that is either loved or avoided like hell. And it's a shame, because pink is a very graceful colour that flatters virtually all types of female beauty. With a little effort, each of us can find a shade that will beautifully accentuate her complexion. Choosing accessories can be a bit more tricky. That's why we've put together this guide to help you find the right shoes to go with your pink dress - depending on the occasion, of course.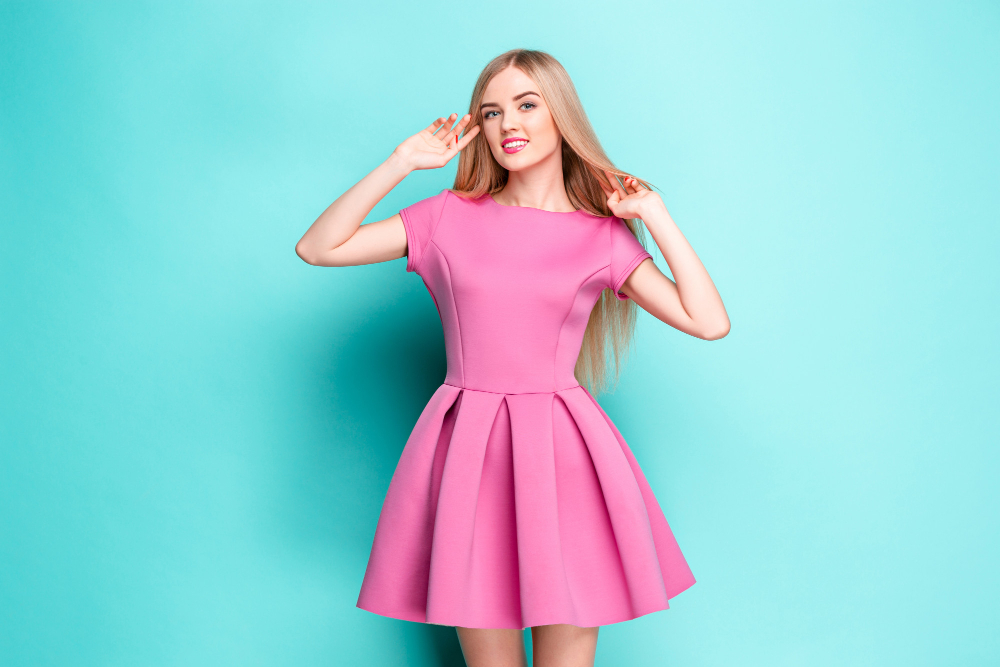 The pink dress has been a hit in recent years! Short or long pink dress - which is better?
Until ten or twenty years ago, we mainly associated pink with little girls or baby clothes. All because this colour was the darling of the manufacturers of clothes for little ones. Fortunately, trends have changed considerably and pink has been freed from ungrateful stereotypes. Today, it reigns supreme both on haute couture catwalks and on the streets. And that's a good thing, too, because it suits blondes, brunettes and redheads alike.
Of course, pink still evokes certain associations - it emphasises girliness, softness, gentleness. For this reason, it is worth choosing it for certain occasions, and above all whenever we want to feel young and innocent. Those of us who prefer to emphasise our fiery temperament can opt for stronger shades of pink - amaranth and fuchsia. Still another question is what shoes will work best with a pink dress. The answer to this question largely depends on the circumstances.
Short or long pink dress - which is better?
Before answering the question of what colour shoes go with a pink dress, let's consider the length of the creation, as it is of considerable importance. A short pink dress in a light shade sends out a clear message - we want to feel girly and innocent. And it's not that such a model is reserved for teenagers or students. If you are a mature businesswoman who wants to emphasise your professionalism, you are unlikely to choose such a dress for an important presentation, but for a wedding, communion or a christening party, it is the right choice. It is best not to spoil the soft expression that this look creates with black stilettos. Pastel or flesh-coloured sandals or stiletto pumps are perfect, as are platform shoes.
And what shoes to go with the pink maxi dress? It depends on the version. One of them is a summer, everyday styling, where sandals, also so-called rompers or platforms will look best. The other option is an elegant outfit for big events. In this case, we recommend classic stilettos or pumps, or crystal-embellished high-heeled sandals.
What shoes to choose with a pink dress? We answer!
Whatever the occasion, we may be troubled by the question of what colour of shoes would be most appropriate for a pink dress. It largely depends on the shade of pink. The light ones work well with pastels: pale blue, light green, dim yellow and flesh tones of beige. In contrast, dark brown and black combined with light pink will create a sense of dissonance. The question of what shoes go with a pink dress in a shade of fuchsia or amaranth will be answered differently. As these are intense colours, they will go well with dark colours: navy blue, cobalt, emerald and even red. Of course, these are bold combinations, but a fan of intense pink is certainly not one of the shy women.
Shoes to go with a powder pink dress
This shade has been a real hit in recent seasons and is winning the hearts of even those ladies who usually shy away from pink. This is a very good thing, as it highlights different skin types beautifully and is extremely feminine. By opting for this shade, we can be sure to avoid the effect of over-saturation. Which shoes to wear with a powder pink dress make the best duo? We recommend different shades of green or navy blue. Stilettos women's sandals or high heels in shades of flesh beige or camel brown will also look great. White as an accessory is also a good choice.
Shoes to go with a dark pink dress
Dark pink is also a very feminine yet bold colour. We will make a furore in it at a party or wedding. What shoes to wear with a pink dress in an intense shade? Here we have to go for the punch and choose an equally strong colour of accessories. A good idea would be stilettos or post pumps in navy blue or dark green. Also try gold or silver stilettos. In such a juxtaposition, they will certainly not be an exaggeration.
Shoes to go with a light pink dress
We associate the light pink dress with the famous 'naked dress', a creation that creates the impression of nudity. The most famous naked dress is the one worn by Marilynn Monroe at John F. Kennedy's birthday party, singing "Happy Birthday" seductively. The creation has seen many successful copies, and more celebrities are eager to show up on red carpets in them. What shoes go with the pink naked dress. Since we are going to emphasise nudity, footwear should not be a deviation. Opt for flesh-coloured, almost invisible and very delicate sandals with thin straps. Gold or silver-coloured models will also make a good impression.
Shoes for a pastel pink dress
Pastels like to stick together, so if you're wondering what colour of shoes to go with a pink dress in this shade would work best, look in this colour palette. As a reminder, pastels include blue, light yellow and faded green in addition to soft pink. Beige flat-heeled boots will also go well with a pastel pink dress.
Shoes to go with pink lace dress
Pink and lace do not have to look kitsch. On the contrary. Just look at the delicate, powdery, almost flesh-coloured lace in the most fashionable wedding dresses. Of course, this combination is not reserved for brides. Which shoes for a pink lace dress will be suitable? First of all, delicate and minimalist, because pink and lace is already a lot of good. Flesh-coloured or pearl stilettos, post pumps in an ecru shade will work perfectly.
Shoes for pink wedding dress
Pink at a wedding doesn't have to be reserved for the bridesmaids. On the contrary, it is a very good colour for this type of occasion - both for the bridesmaids, the mums of the bride and groom and the other guests. Which shoes should you go for with a pink wedding dress? In bright stilettos you may compete with the bride, so we rather recommend, for example, heeled shoes in shades of grey.
What accessories to choose with a pink dress?
Light pink is delicate, so it is better not to spoil this impression with heavy, strong accessories. Classic, subtle gold or silver jewellery will do. If it's a strong pink colour, you can opt for stronger accents, such as large earrings or necklaces of various lengths in old gold or even copper.
Pink dress and shoes - styling for every occasion
Are you looking for inspiration and would like to know what shoes go with a pink dress for different occasions? Take a look at our ideas:
For the wedding - Opt for a maxi dress in a deep fuchsia shade, accompanied by gold stilettos and a handbag.

Everyday - A simple pink link dress, paired with flat heeled boots and a green cardigan is a hit.

For the office - A girly pink schmisserie paired with white sandals would be perfect for work and date night.
Read also: